I began my Creative Masters interview series in order to feature creative entrepreneurs who are a shining example of manifesting your goals and dreams. However, I quickly realized that there is just as much inspiration to be found in a newcomer – particularly because their decision to pursue passion over practicality is recent and fresh in their minds and hearts. I now present to you a "sister" series that I will call Creative Makers: a showcase of artisans, performers, and business owners who are new to the game and ready to give it their all. 
Within five minutes of meeting Rachael at Thread Count, I knew we would become fast friends. Her infectious laughter and evident love for all things well-made really made me feel like she was a kindred spirit from a previous lifetime. After only meeting me once, she so graciously opened up her home and studio to show me where the leather magic happens. That's right people – leather. magic! Rachael Riedinger is the creator of Neva Opet, a line of hand-crafted purses and accessories that exemplify a modern take on the marriage between functionality and form. Her gorgeous array of leather and canvas bags were enough to make me swoon, but after getting to know her over iced lattes (made by Rachael herself) and scrumptious pastries, I knew I wouldn't go home without one of her beautiful creations. Her work is dripping with passion and can be found via Neva Opet's website, Etsy, and Facebook. Be sure to keep tabs on this one, ladies. I'm sure in a few years you will have wish you had bought one of her bags today!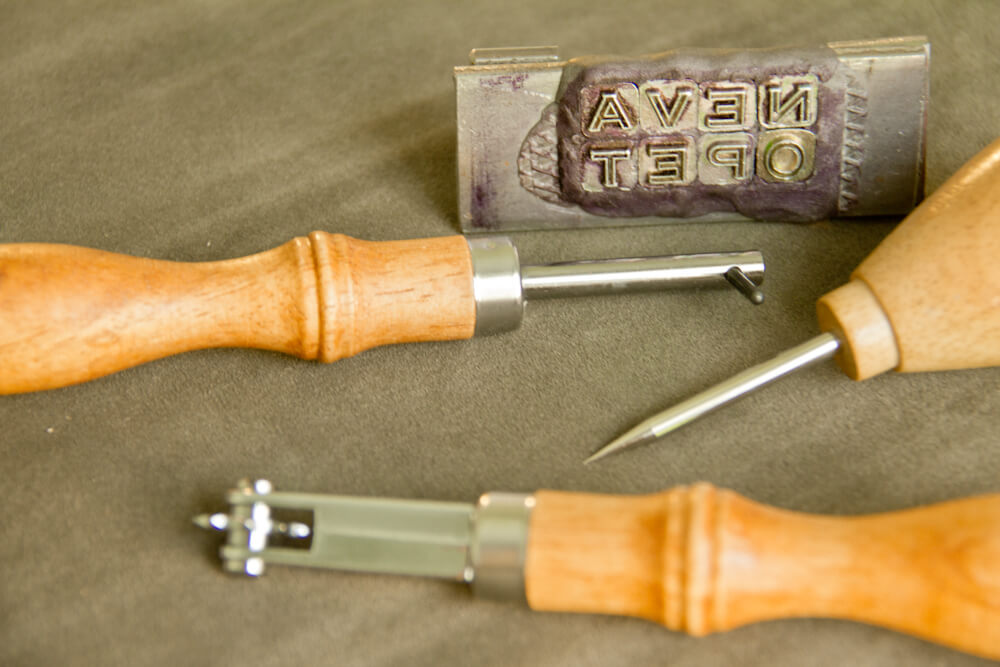 First things first. Describe the personality or type of woman you make your bags for.
I make my bags for myself and for women like me. I like minimal things done in great materials that will last a lifetime. A woman like me is someone who appreciates art, design, and minimalism – likes things a bit more understated. I think shopping habits have taken a change and people want to purchase things that they will keep forever. I'm hoping people won't treat my bags preciously or baby them because they are meant to live and mature with their owners. The materials I use only get more awesome with age.
That's a cool way to look at an accessory – like a lifetime companion. So how did you learn to make what you make? Where did the impulse come from?
Well I started sewing when I was 14 years old. My mom gave me a sewing machine for Christmas and I started sewing all the vintage silhouettes and patterns I couldn't find in stores at the time – like peg leg pants (skinny jeans) or just band patches onto my jackets. It just snowballed from there so I've been sewing for 11 years now. I just really enjoy making things and after one really awful job, I decided that I wanted to do something that I love. Even if it pays half as much, I'm still so much happier. In regards to the leather work specifically, I'm entirely self-taught. It took a long time to figure out the ins and outs of leather and I still learn something new every time I work. But because of that, each bag I make is better than the one before it.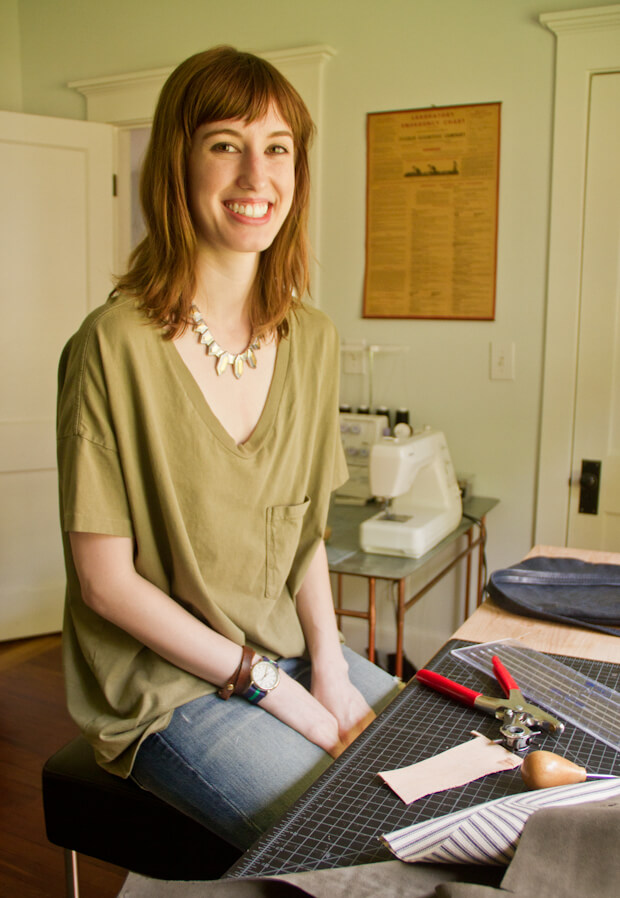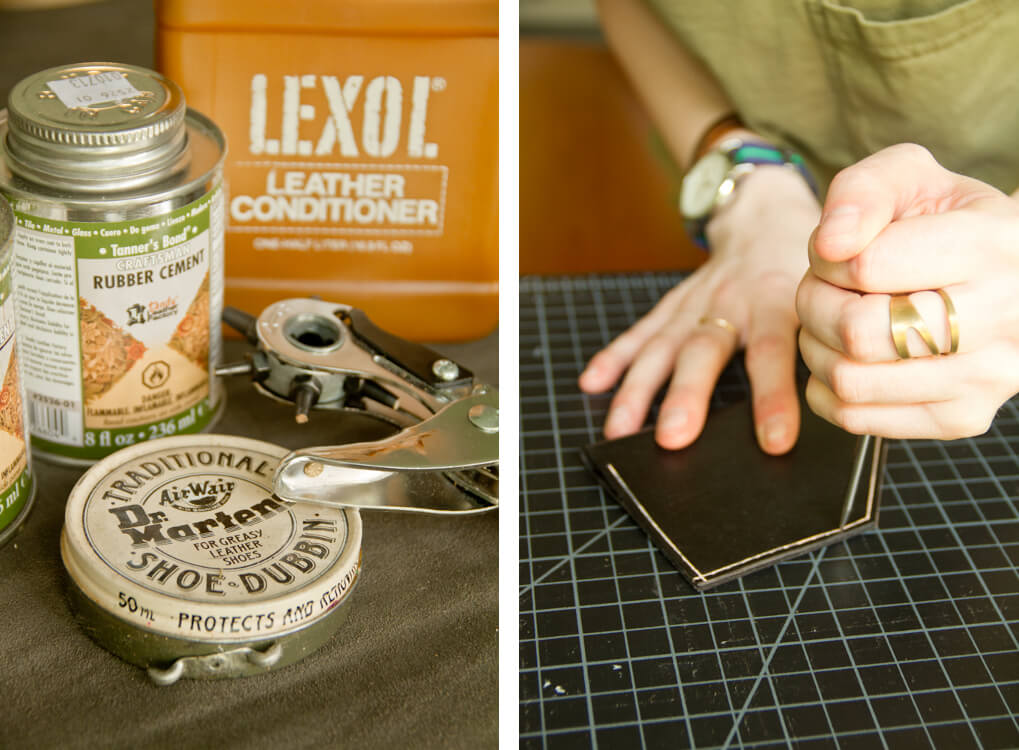 Which part of the crafting process do you enjoy most?
Hmm. That's tough. On one hand, I really love the transformation of materials – seeing the fabric or leather become a finished product. But I also really love it when I see that someone else enjoys the bag as much as I enjoyed making it. It's just such a gratifying thing to see a stranger say "I love this," and it makes me want to design more. Otherwise, I'd probably just end up with a bunch of bags in a room. 
That reminds me of Like Water For Chocolate… just the idea of emotion being transmitted through creation, completing a really lovely artistic cycle. Like your love is transformed into someone else's love.
That's funny you say that because I tend to listen to the news while I craft and I sometimes wonder if I need to stop doing that for fear that maybe it seeps into the purses – you know, all the depressing stuff that's usually on. You wonder if that affects the kind of work you're making. Maybe I need to start listening to soothing music or something.
I highly doubt your bags retain that kind of energy! But it'd be an interesting test to see what happens when your environment is altered. I love the fact that your items are intended to mature with their owners; it implies your reverence for history and tradition. Are there any other ways in which your own personal history or tradition is reflected in your work?
Yes of course – the name Neva Opet itself. Neva is my great grandmother's name and Opet refers to the ancient Egyptian festival. I was so enamored with Egyptian art history that I feel like it had to be a part of the name. So that historical reference combined with my personal reference just made sense to me. The two have nothing to do with one another, but it sounds good and I like that.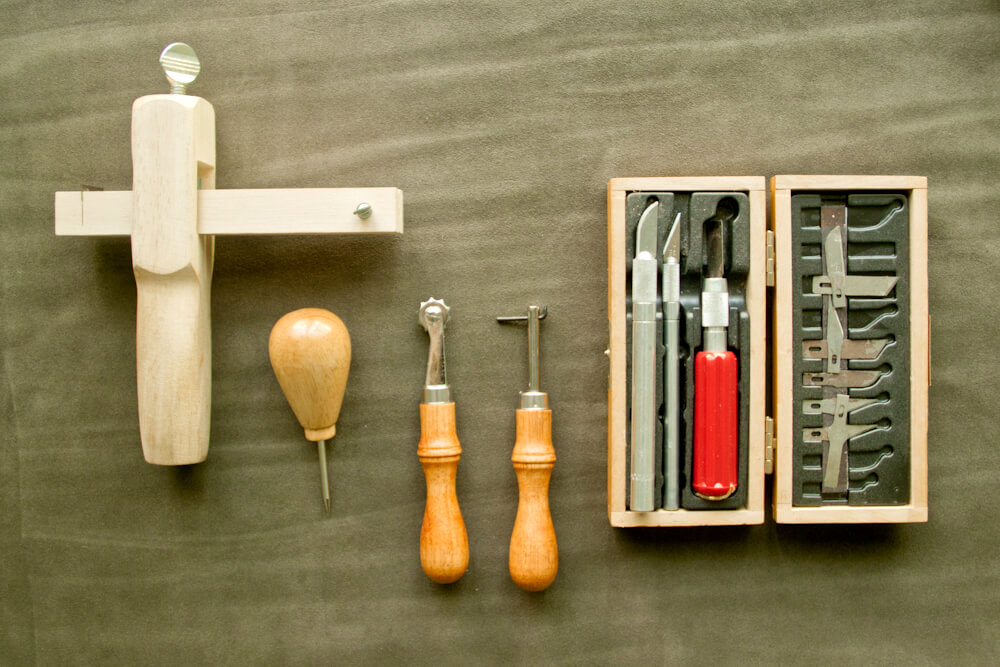 Could you elaborate a little more on the Opet Festival?
Basically, it's a cyclical festival that celebrated the renewal of the Ka, which is the life force of the King. It's really all about nature; which is a religion I can get behind because it's practical! Life comes from the sun and the crops are renewed, et cetera. I guess the short answer would be a renewal of all things they deemed.. good. I remember Egyptian art history classes because everything in their culture is so intertwined with nature. Once you start explaining one thing you end up writing pages and pages because you can connect it to everything else. I found the inter-connectivity so interesting.
That's a pretty awesome historical reference. Was your great grandmother a crafter?
No. My mom's side of the family grew up in rural Kentucky and her aunt owns a convenience store. They're like real country people. I actually have a very Southern background which is probably why I love things to grow with age yet still stay simple. No frills.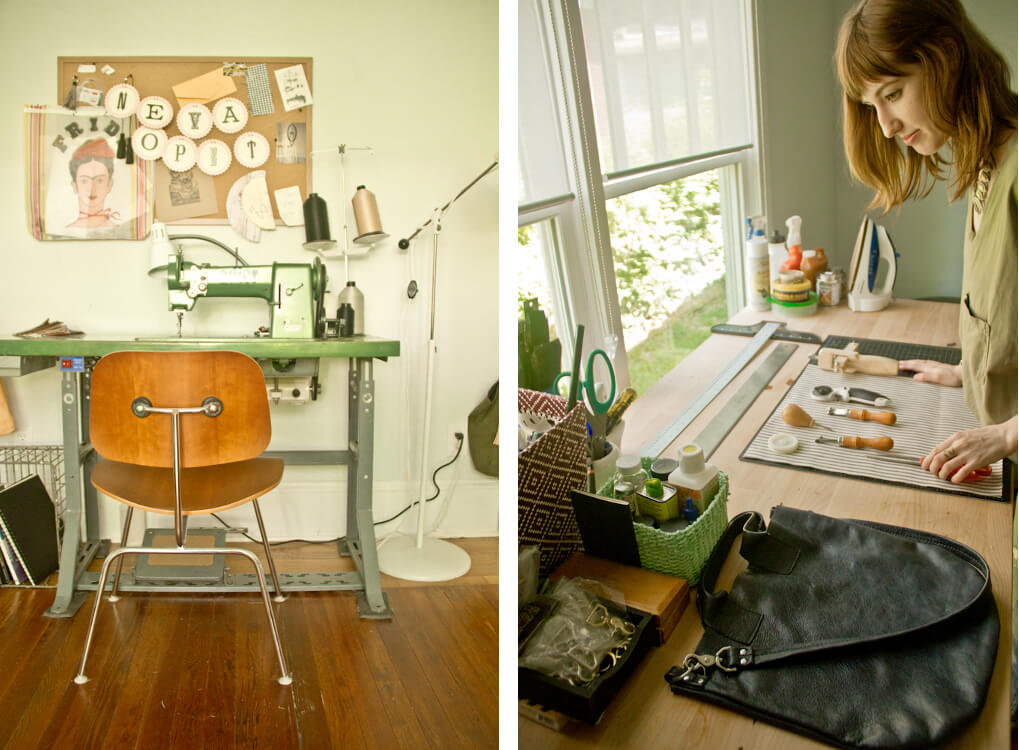 Who are your favorite handbag designers and do they influence your own designs?
Let me think of a good way to answer this… I'm actually inspired by every design I see. Whether it be Prada or Vivienne Westwood. I love looking at blogs and finding up-and-coming people doing similar things in leather or canvas. I think there's this whole utilitarian and menswear-inspired trend going on and so it's a great time to make what I make. There's plenty of well-designed utilitarian bags out there for men, but not as many for women. And I enjoy finding those rare small scale craftsmen. Like Imogene + Willie, whose dream was to just sew denim jeans in an old gas station in Tennessee. I'm really just inspired by aesthetics and design in any form, not just accessories.
Do you think your craft will transform into other types of items or even clothing?
That's hard to say now. I don't think it will turn to clothing, but I hate to say yes or no to anything because I never know what I will be inspired to make – even tomorrow. Hopefully I can do more accessories, card cases, and wallets… but I really just like the one-size-fits-all nature of bags. I love working on a larger scale and with clothing or jewelry, you tend to fuss over the details. Maybe belts!
That makes me wonder… Do you have any interest in providing custom design orders? Or would that be too much of an intrusion into your creative process?
I'm somewhat open to them. In the past, I've gotten a lot of custom orders that I feel deviate too much from my own design aesthetic. For instance, some bartender asked me if I'd make him a waxed canvas apron, which is cool, but I don't want to become a tailor instead of a designer. If I get to a point where I get stuck with materials, then I might open up the options for colors and different fabrics. However, I don't want it to be like "send me a sketch and I'll make it," Once I get to a place where I can order the best leather there is and offer it to the customers, the options can be more open. It's definitely a growing process and it'll be fun to see where it will go.
Awesome. I definitely have some ideas..! Has the Atlanta community been a part of your growth?
The Atlanta community is really exciting right now. There are just so many people who are able to craft and make a living doing so. Because of that, there's a great support system here – particularly among Atlanta women. We all want to help each other out and I think that's great. There are so many possibilities, it's really exciting. Boutiques and wholesale opportunities are endless. We're almost like a little Portland. Maybe one day we can live like we're all retired, just doing what we love all day long. I couldn't do this in a big city like New York though, it would just be too miserable – and with too many people. For my aesthetic, this city is perfect.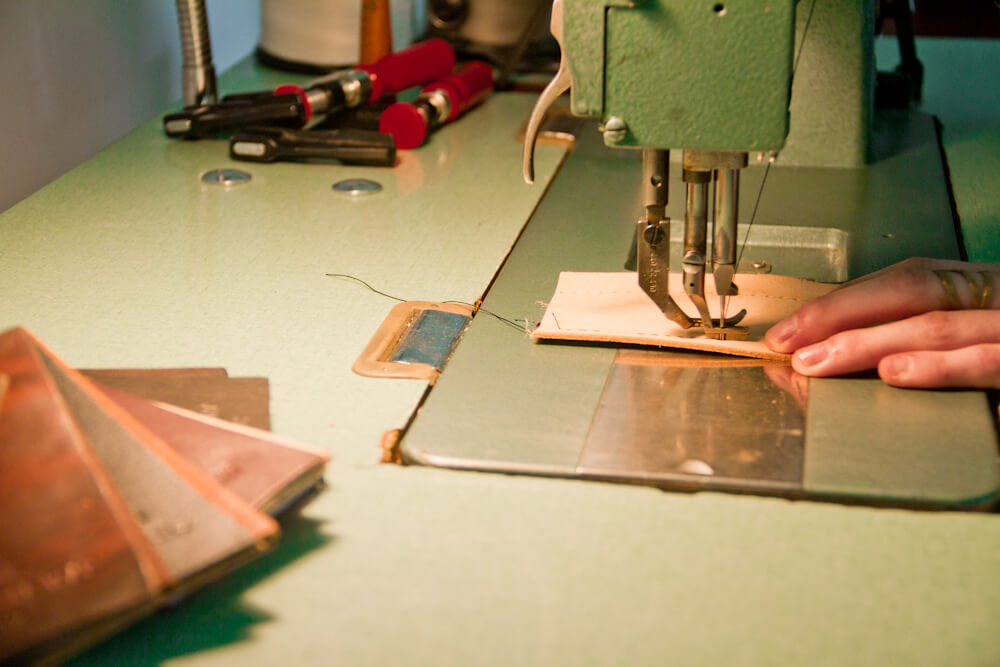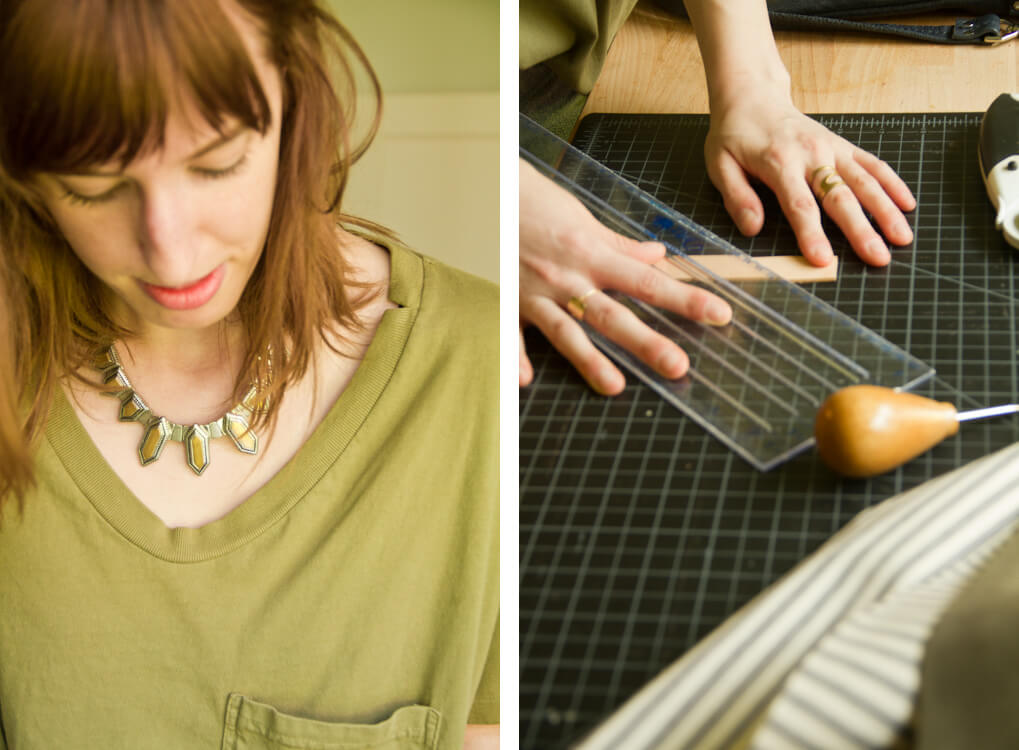 What are some of your favorite local Atlanta spots? Like restaurants, shops, parks…
We have such an amazing food and cocktail scene! Leon's has the absolute best cocktails ever. And I love going to Young Blood for local shopping. Gun Show is AMAZING. There's not a full bar, but we went with two friends of ours and we literally got one of everything on the menu. Any place on Buford Highway is also amazing. I know I'm forgetting something… oh, Argosy! They have great cocktails as well and they're just cool people. Everyone within this Atlanta creative bubble is really friendly and supportive of one another, which is awesome.
What would be your dream for the future of Neva Opet?
Well. I feel like I have all of these big dreams. Actually, let me keep it on the smaller scale so I don't end up jinxing myself, I would say my dream is to just be able to support myself entirely on Neva Opet. I don't necessarily need to be some huge designer and I don't even really want to. I don't want to be the next Rebecca Minkoff. My dream would just be to have a little studio with two employees and have my bags be everywhere around the city… and maybe Texas and California. I want to do well on the medium scale.
What would you say to your 16-year old self if you could speak to her now?
That's hard because even if I were to go back and say go to New York or go through design school, I don't think I would be in the same place that I am now, where I'm totally content. Teaching myself along the way instead has been really rewarding. The process of trial and error makes all of your successes that much more exciting. Everything happens for a reason, everywhere you went in life takes you to where you are now. If I had not had that awful job then maybe I would have never realized that I should go out on a limb and do this. I guess if anything maybe I would say don't think too hard. Do what makes you happy and don't over think it. I over thought it. I am the stereotypical over-analyzer, very practical. Once you shut your brain off, that's when you realize what you love doing. So don't analyze it too much.