I'm thrilled to share with you the enviable and mouth-watering talents of a delightful creative entrepreneur that I've had the privilege of working with, Shellane Pickett of Apple Butter Bakery! Three years ago she took me under her wing as an intern – teaching me the basics of cake decorating and always putting a smile on my face while doing so. After a brief stint on the west coast, Shellane has returned home (thank the heavens) to realize the dream of opening her own brick-and-mortar bakeshop, serving up everything from mini pies to brownies to custom designed cakes.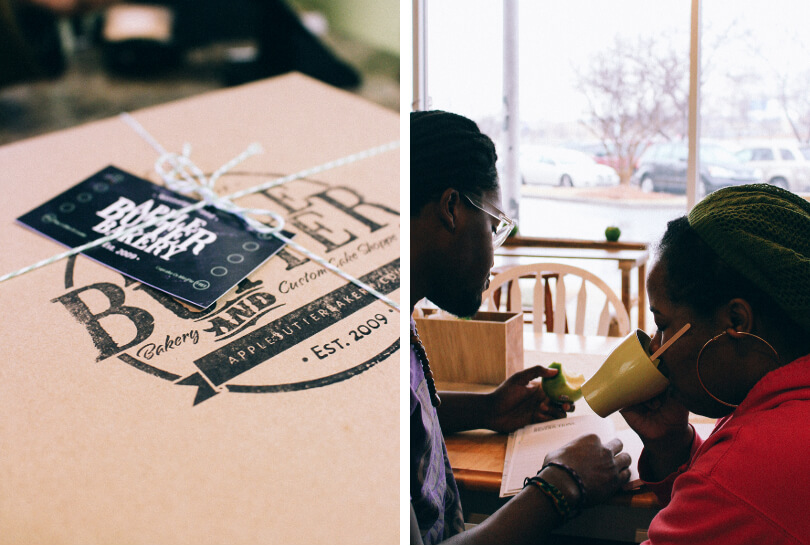 I've never been more aware than I am now of how difficult it is to do that, to choose a path you love and follow it no matter the obstacles. I remember when this girl had only daydreamed of this moment and to see her finally have it is so uplifting, so inspiring. With her husband, Daniel, and her family by her side, Shellane serves up an array of sweet treats that taste like home. All these delectable creations are imbued with the spirit of the Pickett family; their warmth, optimism, and capacity for love lines every cupcake, cookie, and cup of coffee.
Where did your passion for baking originate from? When did you realize this was going to be your life's work?
My passion for baking started when I was about 4 or 5 years old… old enough to hold the bowl steady while helping my mom bake some brownies or coconut cake. From then on, I was hooked. I had an idea that this was going to be 'my thing' during my junior year in high school. I wanted to go to culinary school, but I took an alternative route and ended up in the same place anyways. I remember I was in my mom's kitchen decorating a cake and saying to myself "I wish I could just live in a little cottage and bake cakes all day"… I'm still working on the little cottage part!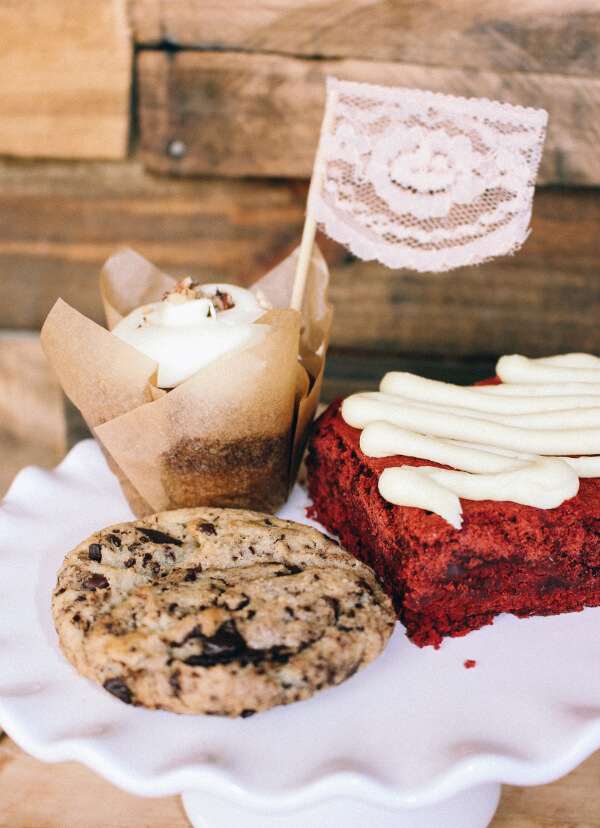 Where does the name Apple Butter Bakery come from?
Our name was originally Pickett Pastries, named after the family surname. I didn't really like it even though I came up with it so when we realized this was actually a viable business, my family brainstormed for about a week to come up with another name. Earlier that year, our apple tree yielded more apples than ever and we made apple everything, including delicious batches of Apple-Butter with the help of my amazing Aunt Mary Helen. My dad woke up one morning and said "Apple-Butter Bakery" and we all fell in love instantly.
Describe the journey it took for you to get where you are now. If you could go back in time, would you do anything differently?
I actually posted this on my facebook the day before we opened: 26 years of borderline obsession with desserts. 10 years of dreaming to one day open a bakery. 6 years of practice. 1 year and 12 days of building. 7 days of transition and 2 days of world-wind preparation… One day is finally here: Friday, December 6th, 2013.
If I could go back, there are a few things I would've done differently. Most importantly, I would've delegated. I have this nonsensical idea that I can do simple tasks better than anyone I could ask to do it. HA! Almost drove myself insane. In retrospect, if I hadn't made myself crazy then, I would instead drive myself crazy now.
What or who inspires the work you do?
Everyday, I push my myself to be more creative and to work better than before because I vowed to work as for the Lord instead of for any other person or reasoning. When I think about how God gave me this gift and this opportunity for a reason, I make sure to push myself for His sake. I've found that in doing things for people or any other reason, I tend to get comfortable in my ability and my growth plateaus. When I think about my purpose in this life, I get so excited to break all kinds of barriers because in Him, there are none!
What has been the biggest hardship you've faced in opening your own brick and mortar storefront? How did you overcome it?
Money! It takes a lot of it to open a brick and mortar store. I'd done the online thing and the shared kitchen thing with my own savings and that was a breeze. But we needed a lot more money and were turned down by the banks not once, not twice, but three times. For anyone, that'd be enough to give up, but I knew that this is what God was calling me to do. For the record, if God has called you to do something, there's no such thing as failing at it. So for us, it just took faith. We knew we couldn't fail; all we had to do was take baby steps… one at a time and sure enough he had people coming from the woodworks to fund and donate key items to the bakery. If anything this whole process was to make our testimony that much more remarkable.
You and Daniel's partnership seems to play a great role in the strength of your business. Has being married changed the way you do/see things creatively?
The first day I met Daniel, he helped me interpret my talents to make sense of it all. "Innovator." he said. Within a few hours of us speaking, he was able to help me clearly see what I was good at doing. Since then, we bonded over ideation and finding new ways to set our business apart from the rest. He's able to think creatively on a level that is beyond me. Between the two of us, we're able to come up with an experience for our customers with very little formal training. That, I believe, is one of the greatest strengths of the bakery.
What do you think (or hope) sets you apart from other local bakeries, in your area and in Atlanta?
Our end goal isn't to sell an insane number of cupcakes and cookies. Because of that, we interact with our customers differently and we produce our products with much more time and care than other bakeries. I've worked in three other bakeries on the east and west coast before re-opening Apple-Butter. I know how they function. Alternatively, we choose to use our bakery as a haven for people. Our end goal is to be lovers of people. By doing that, people feel warm and fuzzy once the door swings open, so they come back (often). Our customers can taste the care that we put in our food and by doing that, they tell their friends. We've done no major marketing and are already working near capacity. So it's paying off… serving nostalgic food and feeding souls, not just tummies, is our thing. And we believe that people appreciate us for that.
What are some of your favorite local Atlanta businesses? What do you admire about them?
I absolutely swoon over Le Petit Marche. I think she's doing everything right. Daniel and I visited after a super busy week at the bakery and when we walked in, it was like we were all kindred spirits! I've even had people come to the bakery and say that it reminds them of Le Petit. And the food!!! What?! So pretty much, I just admire every aspect of their business. It's near perfection. Matter of fact, If Jesus were in town to visit me, I'd take him to Le Petit Marche for brunch.
Other local businesses I admire are Boxcar Grocer for their devotion to bringing fresh food to urban communities, Octane Coffee (Tony Riffel) mainly for their encouragement and help for when we got started (even though they came from B.Ham), and The Little Tart Bakeshop, because we both got our major start back on Irwin Street sharing the ovens at the same time and look at her now!
What's your favorite cake flavor? Cookie? Brownie? Pie?
I've always been more of a cookie and brownie kinda girl. My favorite is a really gooey, warm chocolate chip cookie. Then comes the fudgy, dense, chocolate brownie. and a close third is German chocolate cake. But I would be amiss if I didn't mention our Stone Mountain Pie, which originated from my lovely cousin Sighle, as an honorable mention.
How do you decide what you're going to serve in your bakery?
Originally, we took our top sellers from when we were in Inman Park and added it to our opening menu. A few items were added from my experience in San Francisco. From there, we started listening to our customers suggestions for different variety of flavors. We always take notes to their suggestions. It may take a while to develop the recipes but we'll more than likely give it a shot. Lastly, we are die-hard pinners. If we end up drooling over a pin on Pinterest, you'll more than likely see it in our case even if it's just for fun.
What do you love most about living and baking in the South?
I love the hospitality. To be quite honest, I didn't believe in southern hospitality until I started traveling. I thought people in NY and Cali were incredibly rude if they didn't make eye contact or at least nod while in close proximity. I also love when our customers come back and say things like "your sweet potato pie taste just like my grandmother's recipe". That's our goal – to bring back those nostalgic feelings when you bite into something that taste like you're 12 years old again in the country visiting your grandparents. Southern people know the difference… I can't say that about anyone else outside of the southern states.
What is the intention of your bakery for the Stone Mountain community?
Our goal is to build community. I grew up five minutes from our bakery since I was three months old and I've never felt a sense of community in this area till now. ::Cue Cheers theme song:: Sometimes you wanna go where everybody knows your name… Thankfully, many people come in when it's time to celebrate so we're involved when someone gets promoted or when a little one makes the honor roll. We're also very proud of our 'internet-free' cafe which promotes face-to-face conversations. Our community table is perfect to meet new people and make non-facebook friends. Making friends in real life is a lost art and we intend to not let it go without a fight. This spring, we'll be introducing our classes and table talks that'll get people talking about things they are deeply passionate about!
Where do you see yourself and your bakery in 5 years? 10 years?
In the next 5 years, I'd like to see a few more locations spring up in the area. My husband and I took Dave Ramsey's class so by then, we would have been debt-free for sometime and able to start our family. In 10 years from now, I'd love to take the bakery international, do some mission work and start a school for cake artistry.
What business advice would you give to someone trying to make their dreams a reality?
Starting a business is a huge risk if you plan to do it right. It takes a lot of preparatory work to develop the skill to work for yourself or in the field you desire. It takes a lot of time to even get in the position to be able to start a business. Our generation has such a short attention span that our dreams change as often as the seasons. For that reason, I believe you have to find your purpose in life before you make such a huge investment. I have 4 or 5 business plans for other random ventures that would've been a waste of time if I hadn't prayed about what I was supposed to do with my life first. It's fun to wake up with a great idea one morning but to dedicate years of your life for a great idea can be a huge mistake. Again, you can never fail at what you're supposed to do with your life so find out what that is first and enjoy the ride!