I am so ecstatic to be continuing my Creative Makers and Creative Masters series! I had fallen off track because of how busy I was in the past few months, but I'm on the road again and ready to introduce you to some seriously awesome entrepreneurs. 
Sitting down for coffee with Bethany Putnam reminded me how much I love interviewing other creative individuals; she's a kindred spirit with a warm heart and a genuine desire to help others connect with their life's bliss. I felt so comfortable chatting with her that I easily forgot I was supposed to be asking her actual questions! Bethany acts as one half of Foxboxes, bringing vintage-themed flasks to the drinkers of Atlanta and Los Angeles alike. Their sweet and nostalgic creations feature upcycled antique imagery with a cheeky sense of humor and whimsy to match. Having just been voted Best Indie Crafter in Creative Loafing, it's easy to see that Foxboxes is on a steep trajectory towards indie craft stardom.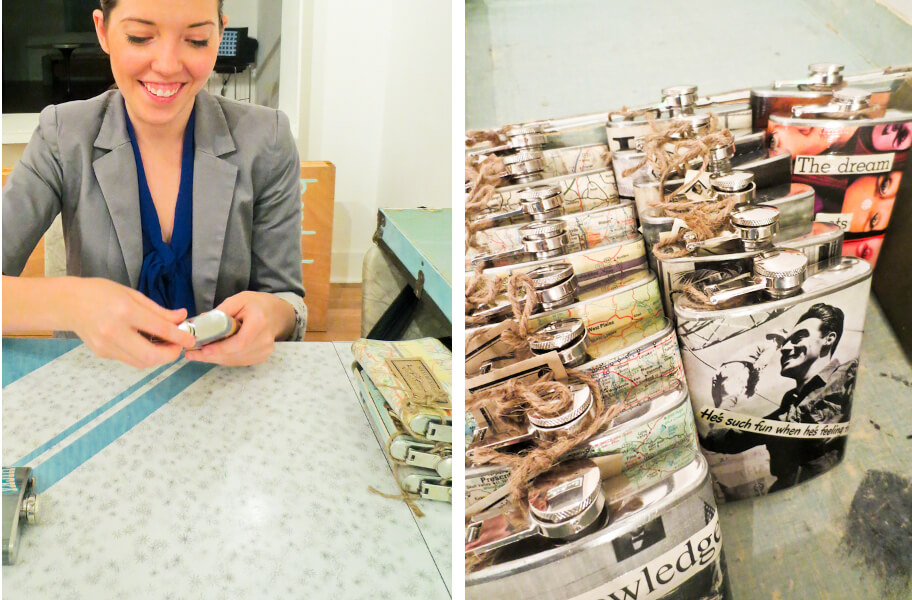 Congratulations on winning Best Indie Crafter in CL! There must be hundreds of crafters and artisans in the local area. How did it feel when you heard the news?
We were completely ecstatic. We thought it would never happen with all the brilliant crafters here – we didn't even think we'd be on the radar! Then when I got an email with an invitation to the Best of ATL party from Creative Loafing, I thought "what does this mean…," because I really didn't think we'd get it. Then not much later we were notified officially that we won the title and I was like, is this a joke? We still can't totally wrap our minds around it. It's incredible how much support we have even though we're only just over a year old. It's really unbelievable!
How did you and Dayna begin Foxboxes? Had you and she ever collaborated prior to this?
We were actually living together after having both graduated from the same art program and one day we were just sitting around talking about how we had not made any art in the last six months. At the time, Dayna was working at Youngblood Boutique and so she suggested that we make something that could be sold there, and I agreed. Since Youngblood had recently sold out of flasks, Dayna and I decided to just make some of our own. We went back and forth about what to put on them, but because we both have a love for vintage imagery – I'm a huge Audrey Hepburn fan myself – it seemed like a natural choice. After scouring antique stores, finding old printed text, imagery, maps, et cetera, we had what we needed. We've been making a ton of collages ever since and it's worked really well for us. So all in all, it was just an organic process that kind of happened on its own.
What does the name Foxboxes come from and what does it mean to you?
Foxboxes came about when Dayna and I were simply playing around with potential names for the project. Dayna has this adorable corgi named Cricket and corgis kind of look like foxes, except more squat and hilarious. So when we were brainstorming, the word fox came up and easily enough, box rhymes with fox and there ya have it. We liked it so we just ran with it – and so far so good!
There are so many indie business owners popping up with the advent of apps and viral social media. It's easier than ever before for an artisan to sell their wares to anyone around the world. With such an expansive market, how do you set yourself apart from others?
I think we're different in that we're not interested in mass production; every flask is an original, painstakingly hand-crafted and one-of-a-kind product with unique imagery and text. They are all works of art and we never reproduce images or compositions. Even better, we're upcycling vintage material and making it functional and relevant again. We've toyed around with the idea of editions as demand has increased significantly over the past few months, but haven't decided on that just yet.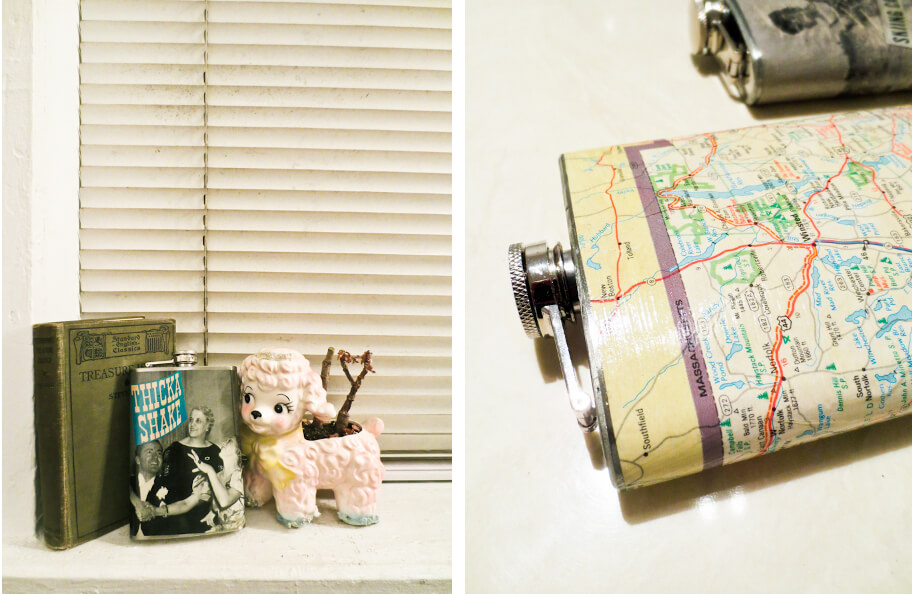 Perseverance is key to building any brand, particularly from the ground up. What do you think has been the most influential part of getting you to where you are now?
I never thought of myself as the kind of Renaissance woman that Foxboxes has forced me to be, but it's been crucial to our success. I've always had eclectic interests, but to build a business you really have to be a Jill of all trades. I love being able to do something I never thought I would do. Not only that, but I've gotten the chance to work successfully with my best friend! It's brought us closer together and strengthened us, both as individuals and as a unit.
What or who inspires the work you make?
I can't totally speak for Dayna, but I think our processes are probably pretty similar. I start by collecting and cutting out thousands upon thousands of images and text out of found source material. As I look through my pile of words and pictures, one thing will pull me to it and then the process becomes organic, almost like a stream of consciousness. Sometimes all it takes is something as simple as a word and then it builds from there. One thing leads to another and then it's as if the flasks make themselves.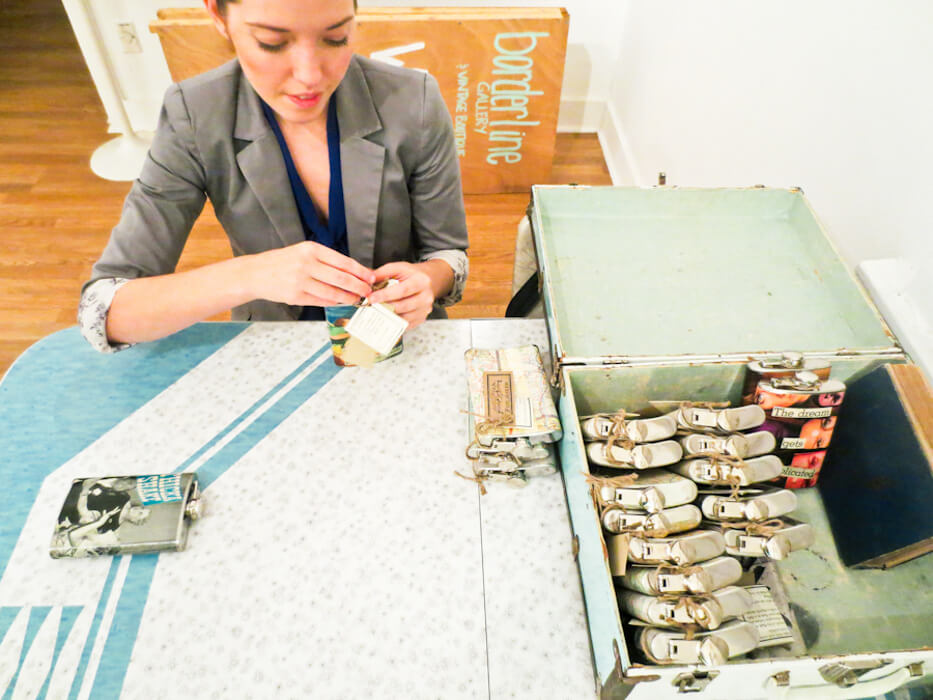 Do you ever get tired of making flasks? Do you think you'll venture into other related lines?
We've definitely contemplated some other products – mostly because supporters have inquired whether or not we could do them. Not everybody is a drinker and so we do want to be able to reach a wider audience, but right now we're very happy with flasking. It's not something we ever get tired of once we're actually into the process, in the groove. Sometimes it can be hard to start, just like any creative project, but once you've got the ball rolling it's actually kind of difficult to stop!
What business advice would you give to a fellow indie crafter who is just starting to roll out their products into the Atlanta market?
Oh my gosh, that's a hard one… I would say, jump on in – the water's fine! Atlanta is really the nicest place to start a business. There are so many supportive people here and so many festivals where you can introduce your products. It's always hard to start a business, but it's worth it if you love what you're doing.
What do you see in the future for Foxboxes?
I see a lot more festivals and a lot of room for improvement organizationally. We are going to be launching what I think is a very impressive website and in the next year, we'll also be a full blown legitimate LLC! That's a huge thing for us. And of course we will be continuing our annual artist flask showcase, Infoxicated, and making it bigger and better each year.
How do you find the time to do what you love and also support yourself financially with a 9 to 5?
My two jobs balance each other pretty well and Foxboxes doesn't necessarily feel like a job. Sometimes it's more of a breather, a break from the everyday. I think if you really want to do something, there's always a way to find time. Also I don't sleep that often! There are definitely some sacrifices you have to make, but… I really love what I do.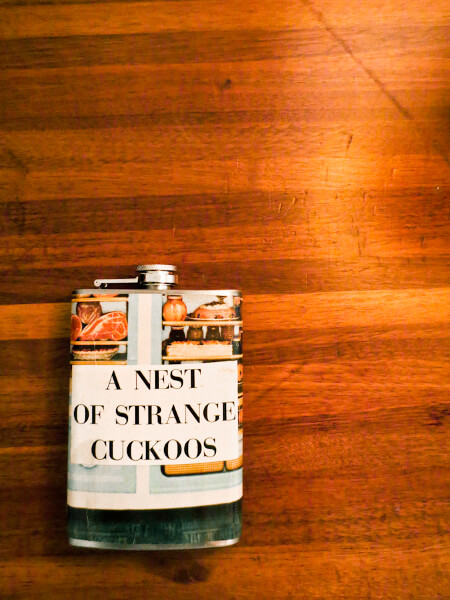 Local Favorites
Place to shop: Highland Row Antiques
Restaurant: Since I eat there like every week, I'd have to say La Fonda
Cafe: ParkGrounds
Doughnut: I don't really eat doughnuts (gasp!) but I know that Revolution is supposed to be amazing
Crafter: Block & Hammer
Event: ICE – as a shopper or a vendor, it's always good!
Bar: I love Victory. Perfect little sandwiches and slushies!