When I say I have a lot of adorable friends, I ain't exaggerating. I've met so many uniquely stylish women that have influenced the way I dress and carry myself. Confidence can be contagious and having a network of amazing friends to back me up is seriously priceless. I'm so thrilled to bring you some New Year's Eve outfit inspiration from one such lovely lady in my life, and her name is Gentry. It's no surprise to me that she recently began her own style blog, Girl Meets Bow, since she's the picture of effervescent charm and effortless class. I couldn't help myself from jumping on the chance to have her and her words appear here. Lucky for me, she's also as sweet as can be. I think I see a new style-slash-interview series beginning…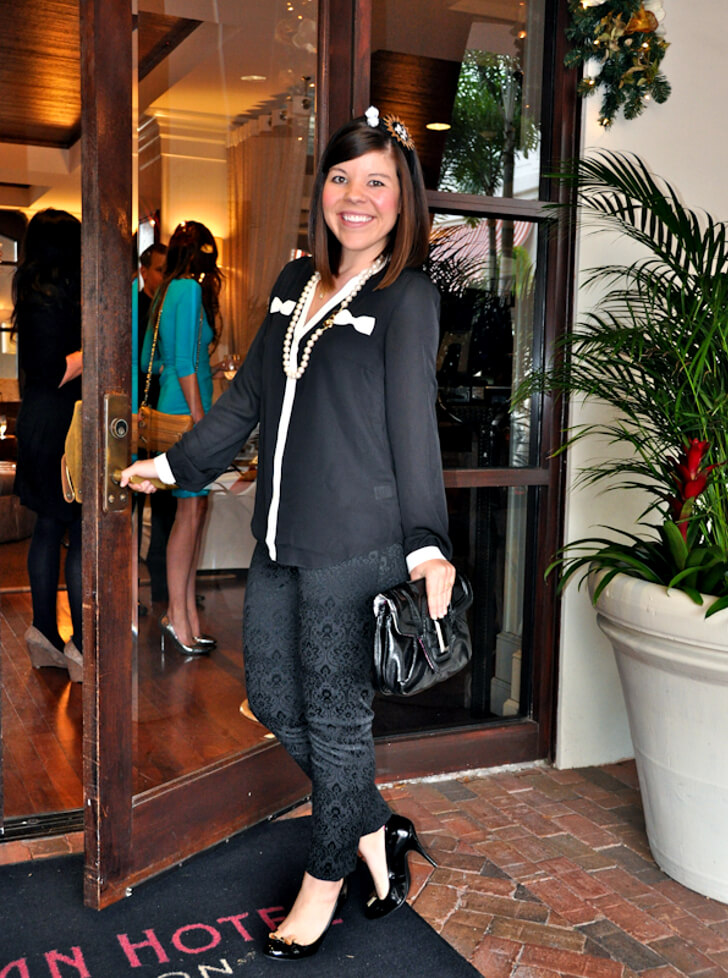 Gentry writes, "the inspiration for my outfit was an 'effortless chic' look. I wanted something that could work for a variety of New Year's occasions- dinner and drinks, a cocktail party, rooftop celebration, etc. I think black and white is so utterly classic, and adding a hint of whimsy with the bows as well as glam jewelry makes this look perfect to ring in 2014!"
What inspired you to begin Girl Meets Bow and what are your goals for it?
I was inspired to begin my blog from reading others! I start my day by pouring over my favorites and gathering style tips and fashion ideas. I am really drawn to blogs that have a more "real girl" style and create outfits from attainable labels for us working gals! After almost 2 years of friends and family encouraging me to start my own, I gathered up my courage and am doing it! My goal in writing this blog is to help readers see their closet differently, and to be inspired to mix and match in new ways! I want to help people see that style comes in all different price ranges and it doesn't take designer labels to look fabulous (although it is fun to wear them!) 🙂 I'm constantly inspired by other bloggers to try new trends and I hope to inspire my readers to do the same.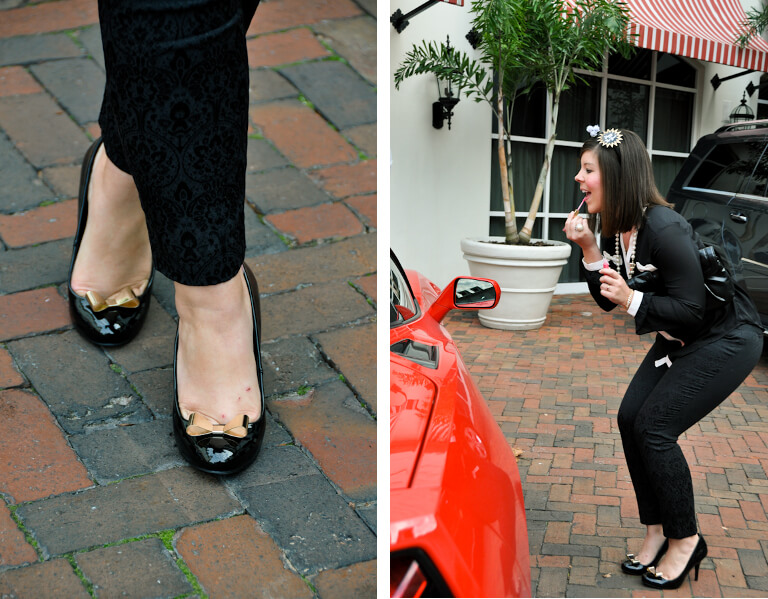 Describe your style in five words or less.
Classic. Nautical. Girly. Colorful. Fun.
How do you manage dressing well and staying on a budget?
Sales! I am a huge online shopper and am constantly hawk-eyeing the pieces that I love until they go on sale! I also sign up for email lists from brands I love; almost daily they send % off coupon codes and special sales just for email subscribers. However, I do believe in investing in pieces that you love. Even if you spend a little more, you will wear it so much that you will get your cost per wear out if it! I've never regretted buying a Lilly Pulitzer dress (my favorite designer) and I have pieces that have been hanging in my closet for years. I will never tire of them!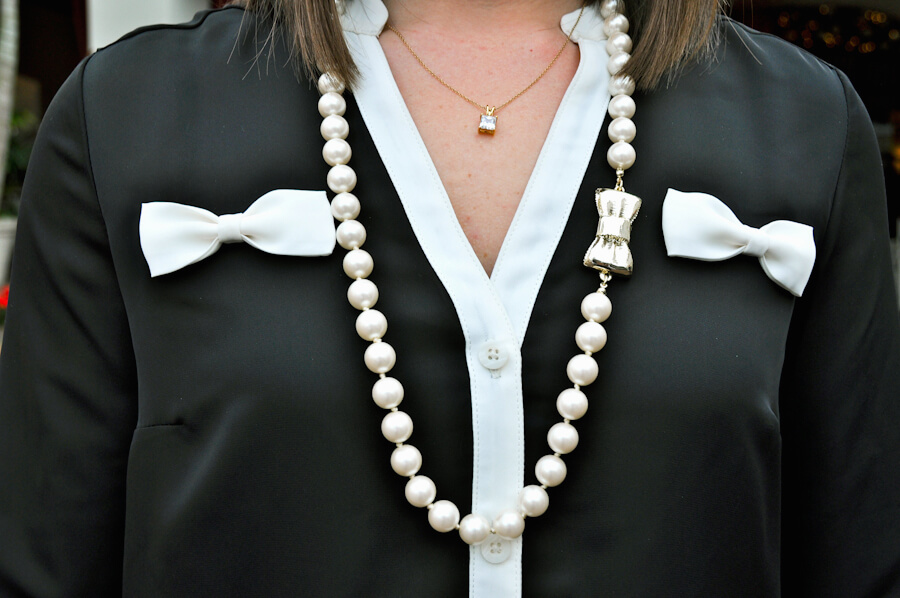 Who do you most admire and why?
Style-wise I really admire the blogging community! I think bloggers are paving the way for trends and style and helping to translate high-fashion for the everyday woman. Celebrity style I admire is Reese Witherspoon – she always looks classic and nautical (two looks I love)!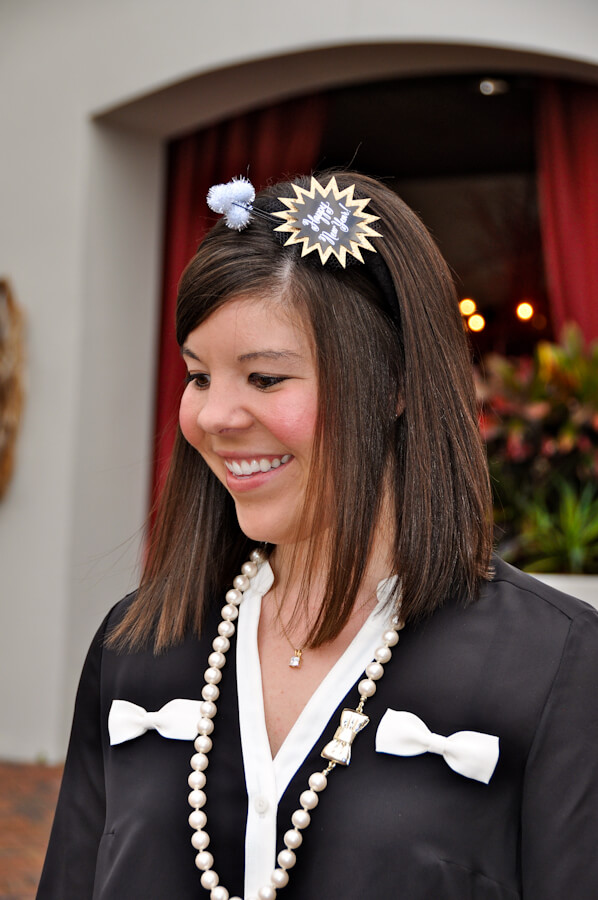 What advice would you give to your 22-year old self?
Don't be afraid to branch out and try something out of your comfort zone! At 22, I was afraid to wear/do/try anything outside of my usual M.O. for fear that it didn't work out. Now at (almost) 26, I'm constantly trying new food/activities/styles and challenging myself to never settle in my comfort zone. It's great to know what you love and what works for you, but it's just as important to discover what could be your next favorite thing!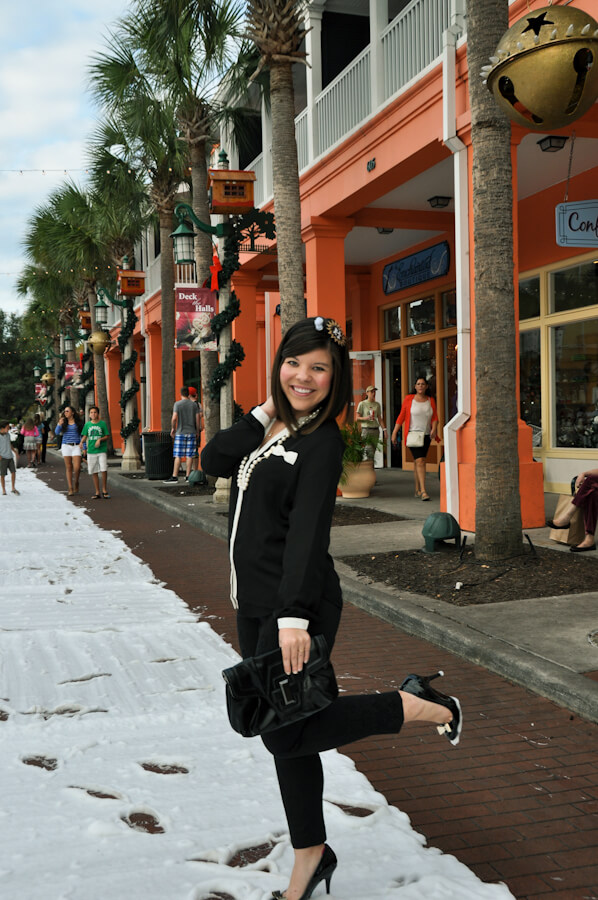 For more outfit inspiration from Gentry, check out Girl Meets Bow!
blouse / lauren conrad via kohl's
jacquard pants / old navy
pearl necklace / loft outlet
pendant necklace / hsn
heels / lauren conrad via kohl's