With Atlanta finally starting to thaw from what feels like the longest winter in history, my beloved boyfriend and I decided it was the perfect time to make another addition to our roster of favorite local eateries. At the top of our "must-try" list was The General Muir – a newcomer claiming to be a truly authentic Jewish NY-style deli slash cafe slash bakery. We had been salivating over the menu, complete with all of my boyfriend's (he knows a thing or two about being Jewish) expectations of such a deli, and couldn't wait to see if it could live up to our standards.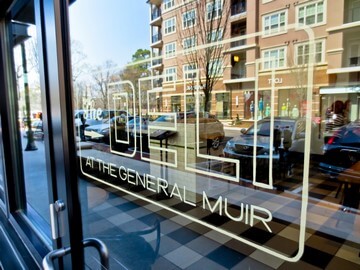 The General Muir sits at the end of Emory Point, a retail strip on a street not too dissimilar from the bigger and better-known Atlantic Station. The area has a handful of cute boutiques (yes, I made purchases) and is super convenient to, you guessed it, Emory and the CDC. Parking was easy with a first-2-hrs-free deck and everything was boding well as we walked into the restaurant.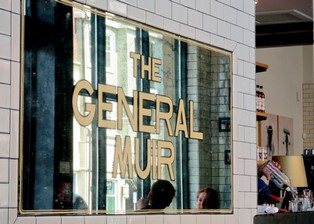 The charming décor set a nostalgic tone without being in-your-face. The atmosphere was welcoming and we were happy to be seated and served promptly.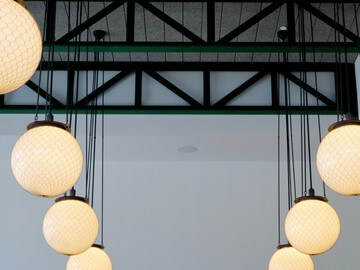 Without needing to see the menu, Ben knew he was going to order the matzoh ball soup (even more so because it was Passover). I'm no expert on matzoh, but I trust that he has had enough of his mother's to know what the down-home version is supposed to feel like. His sentiment on Muir's was that while the hand-made quality of the matzoh ball is self-evident, the broth itself was thin and perhaps lacking some essential chicken fat. The result has a cleaner finish and is probably healthier, but it misses the heartiness that Jewish moms so tenderly imbue by leaving the fat in the stock.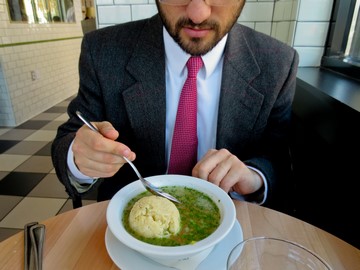 Thankfully, our pommes frites more than made up for the missing calories. I mean, you really can't go wrong with pommes frites.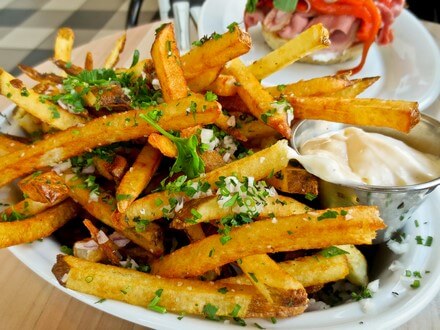 For our main lunches, we ordered the roasted turkey sandwich and the roast beef sandwich. Unfortunately both sandwiches come alone on their plate and thus didn't really merit a photo. However, there was so much flavor in each bite of my turkey sandwich, that I can forgive them the extra side (although a simple salad would have sufficed). Both of our sandwiches were rich in house-cut meat, but the lemon crème fraiche on mine was hands-down the shining star. This small note of tart sweetness made every other ingredient in my sandwich sing and now I don't know how I ever ate any sandwich without it!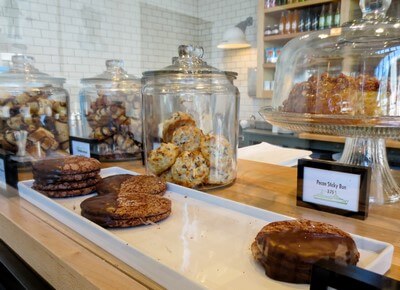 We capped off our indulgent lunch with a slice of classic cheesecake from the bakery, which sits in a small pool of caramel and small crunchy morsels of… cheesecake crust maybe? Regardless of what it actually is, it tasted exactly how we dream about cheesecake tasting. Rich, smooth, and melt-in-your-mouth creamy goodness. I want another piece just thinking about it.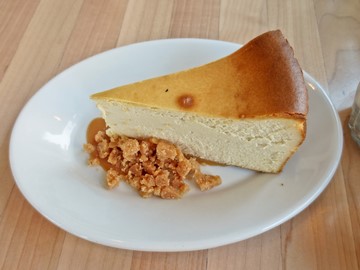 While the General is a tad over my weekly budget, it officially goes onto the "I deserve a treat to make my day brighter" list. Hooray!