Once upon a time, my mom bought me an Urban Decay makeup palette for Christmas. Lil old me had no idea how to make a good eye look out of it so I did what any normal person does, I looked up a tutorial on YouTube. I found one YouTuber who I thought was so beautiful yet down to earth – she reminded me of one of my college BFFs. One video led to another and the rest is history. Here I am over a year later and I am addicted to watching YouTube makeup gurus every night before I go to bed. Part of it is to learn more about beauty and skincare and the other part is that its become ritual. It may sound lame, but it starts to feel like these personalities are like your friends.
Some of the products I list here are from YouTube recommendations, others were random finds, and some were recommendations from real live friends. I have no idea if you're interested in my beauty routine at all, but I've found some really good keepers so I thought I would share just in case! This is not my entire makeup collection – just my absolute staples for the last month or so. Without further ado…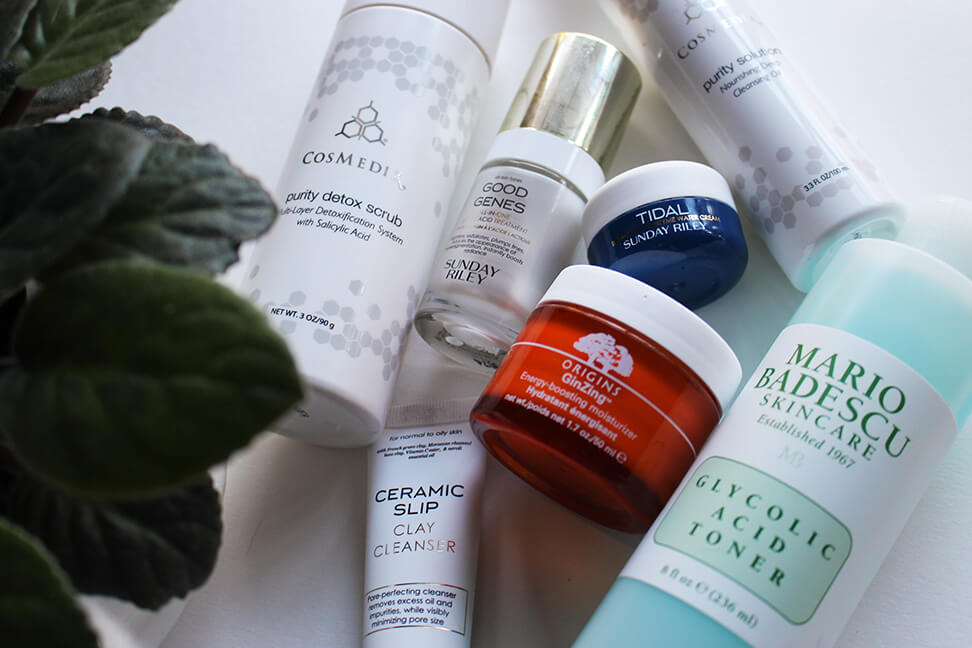 Starting with skin; I feel like I'm so dumb when it comes to skincare. I'm rapidly approaching 30 this year and I've yet to figure out the best things for my skin. Since I have a short makeup attention span, it's been hard for me to stay with something long enough to love it. The products above though? They've been working for me for the last month or so and I think I'm in love. Everything feels great on my skin – light scents, refreshing textures, and really easy to incorporate into my bedtime routine. Of all the things, the Origins GinZing moisturizer is probably my favorite. It smells like a tall glass of OJ for my face! Oh and here's what I look like without anything but moisturizer on:
Yup, that's me. My biggest qualms with my face are texture and tone. I've been trying out lots of foundations and concealers this year (high end and drugstore) and the combo pictured above is the best of the best right now. The other foundations I used this year were: Urban Decay Naked Skin Weightless Foundation, Tarte Rainforest of the Sea Water Foundation, Maybelline FitMe Liquid Foundation, and Urban Decay All Nighter Foundation. Surprisingly enough, this L'Oreal Infalliable Pro Glow is pretty much the best of all worlds. It gives me good coverage (not too much but not too little) and leaves me looking dewy, like myself. Paired with the Hourglass primer and the Maybelline FitMe Concealer… match made in heaven. At least for now.