Every now and then, you just gotta treat yourself. Some days, it will be with a doughnut and a vanilla latte. Other days, it's a great new outfit to make you feel shiny and new. I made the decision to buy this top and pencil skirt because they of how multi-functional and bold they both are; equal parts feminine and strong, contemporary and classic. [ sidenote: this post has made me realize I tend to like pictures of me facing to the left! ]
I'm a huge fan of the crop top trend, but it can be next to impossible to dress it up or take it into the workplace. As I slipped this one over my head, it took me less than a heartbeat to decide that I really couldn't live without adding it to my wardrobe. It's so much better than your average shell; the silhouette is structured yet unexpected and keeps you looking fashion-forward, graceful, and confident.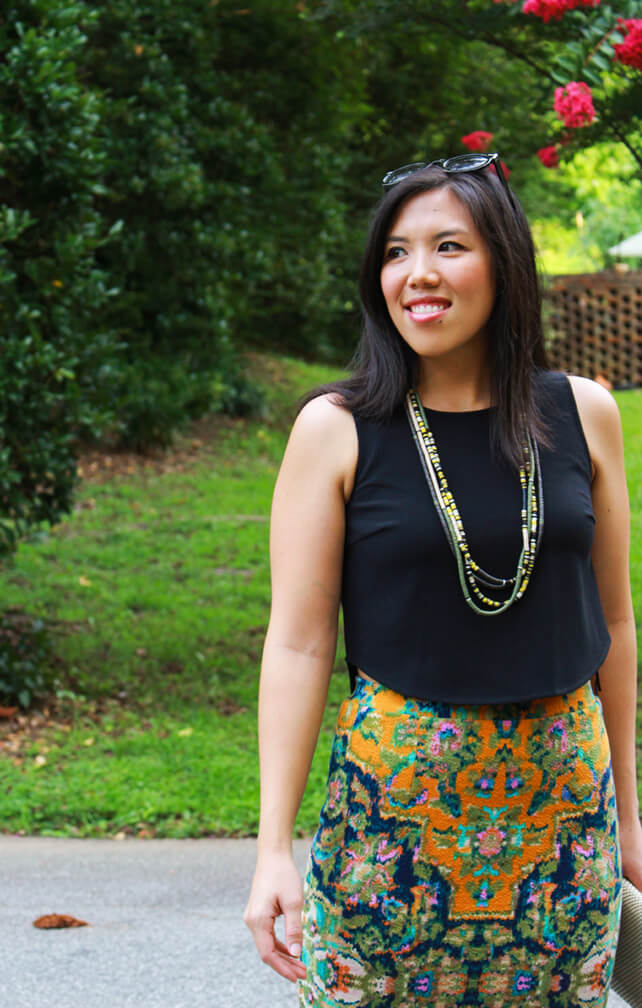 And of course, this amazing printed pencil skirt is just as great. A classic flattering shape in a bold pattern is the perfect way to spruce up your work week staples. With all the colors laced through this skirt, it'll be easy to pair it with a variety of tops both casual and formal. Think navy, olive green, pink, cream, and even mint! The cherry on top of this sundae is that these two items look great on a variety of figures no matter your age. I've seen them work on a lot of different people so before you count them out for yourself, I dare you to try them and surprise yourself with the awesome possibilities!
crop top / anthropologie
skirt / anthropologie
necklace / anthropologie
sunglasses / urban outfitters
booties / target
clutch / thrift find